One thing that stood out at Federal Premium's booth at the 2023 SHOT Show was how they have been listening to exactly what their customer base wants and responding to what they have heard.
Brand new to Federal's Punch line-up is the 103-grain 30 Super Carry round. Civilian and LE alike, have been requesting an even softer-shooting round than Federals existing 100-grain 30 Super Carry HST. Federal has answered that request with the 30 SC Punch, which comes in at about 100 fps slower than the HST in the same caliber (1170 vs. 1250 fps). It also has slightly less expansion, most likely due to the reduced velocity, but still maintains the equivalent in penetration. While the HST is and has always been designed as a duty round, the punch is marketed towards civilian carry. The Punch round also comes in at a slightly lower price point, but the real difference here is a claimed "30-percent reduction in recoil." This new round promises to offer a much more pleasing experience for the shooter, while sacrificing little, if any of the ballistic performance compared to its duty counterpart.
Also revealed at SHOT 2023 is Federal's Gold Medal 147-grain 9mm "Action Pistol." Geared towards the competition shooter, this round was described as the most accurate 9mm round Federal has produced to date, which is an impressive feat. Competitive shooters typically see some of the highest round counts of any types of shooters, leading inevitably to much more exposure to lead and other contaminants. The new Action Pistol round uses a fully copper encapsulated bullet to cut down on lead exposure. It also is loaded with "Catalyst" lead free primers for even more shooter safety. With the 9mm 147-grain Action Pistol round, Federal has produced an extremely accurate and extremely safe round for competition shooters everywhere.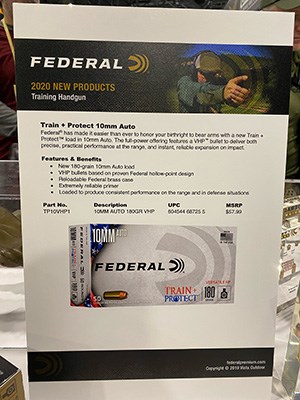 The versatility of this next round is in the name, and I don't just mean "VHP" (versatile hollow point). The new 180-grain 10mm "Train and Protect" round means exactly what it says. This hollow point design is not the most advanced, nor does it offer the peak of hollowpoint performance, but it is expansive and is more than capable as a defensive round, especially in 10mm. That's the "protect" part of the name. What really makes this new round great is its availability in 50 round boxes and the lower cost to the consumer. Shooters may not have to fret so much about cost while training with their defensive ammo. That's the "train" part. Countless shooters are guilty of carrying defensive ammo without ever testing its performance out of their pistol because of the cost. Now gun owners can buy 50 rounds of their carry ammunition, shoot and evaluate performance with some of that and then load up their defensive magazines with the other half. The peace of mind that comes along with this is reason enough to love this new 10mm round from Federal.
In the rifle category, Federal announced its Gold Medal Center Strike OTM (open tip match).  Geared towards accuracy and competition shooting, it will be available in 3 calibers: .308 Win. will have both 168- and 175-grain options. In 223 Rem. there will be a 77-grain variant, and in 6.5 Creedmoor a 140-grain version. Previously, Federal has typically loaded other companies match projectiles, such as Sierra or Barnes. Now, Federal has introduced its own proprietary open tip match designs to add to their Premium Gold Medal line-up. Federal claims these rounds hold their tightest specs for accuracy, pressure, and velocity with a high ballistic coefficient as well. They are loaded with a specifically formulated propellant to produce an extremely accurate and all Federal designed, competition winner.